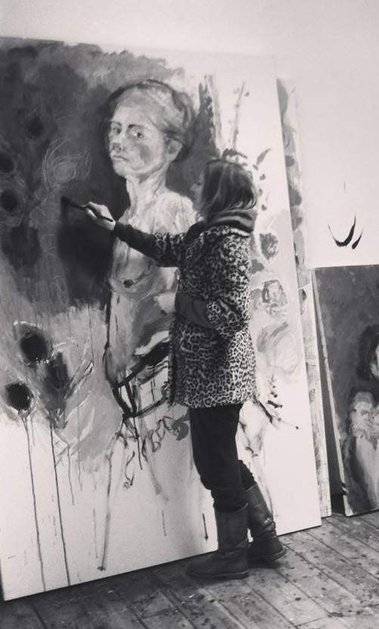 About Me
I knew from a very early age I only ever wanted to be an artist and have always drawn since I can remember. I began to focus more seriously on my creativity after my first solo show in London, 2011. I paint as I want to capture the beauty of being alive and all that entails - the hardships, the love, and I want to explore our connection to the planet and others. I think this is why I return to the figure and nature again and again. I also find people's stories fascinating and painting gives me a way to communicate them. Each mark, each line has a history and can tell a whole story. There are often many layers to my paintings, as there are to people.
I can't get enough of paint and the excitement of when a painting is in flow. The relationship can be quite intoxicating. I have used oils for years, but more recently have started playing around with acrylics as the drying time is shorter and I can be more experimental and build up layers quickly. I like to think when I paint that I am adding something to the world, rather than taking away, which is why I enjoy teaching so much. When one gives, they receive back in ways wholly unexpected, creating a never ending chain of prosperity.
I grew up around London and now live in the East Sussex countryside, which has greatly influenced my recent works. I graduated from Wimbledon School of Art and the University of East London where I studied Fine Art. I've exhibited work in approximately forty exhibitions to date and been shortlisted for the Ruth Borchard Self-Portrait Prize, Rye Society Of Arts Summer Exhibition, Towner Gallery Sussex Open and Hastings Museum Open. I run weekly drawing and painting classes online and face to face. My work is held in private collections in Australia, US, UK, Singapore & New Zealand.

To enquire if an artwork is available, to commission a piece, or if you would like to feature my work please e-mail rachelglittenberg@gmail.com.

About My Work
Using a mix of my imagination, drawing and photographic references, I use elements from history and folklore to explore what it means to be a woman in the 21st century, within the transitory and some times chaotic nature of life. As part of this struggle of being alive, there are often periods of fallow and death, both vital to the process of renewal – 'for a rose to flourish, it must first lose it's petals', anonymous.

My work is a celebration of this flow in life, bound up in hope, anxiety, love and death. I use a variety of surface materials, colour and mark making to convey different moods and emotions. Blurring the lines between reality and fiction, I paint expressive, dreamlike worlds, which aim to capture a brief moment in time, like a still from a scene in an opera or play.
The women I paint are at ease with themselves and not generally paying attention to the viewer. I want my women to be challenging to look at, which is why I often paint them close up, producing a feeling of intensity. Their postures are expressions of their sense of self. These figures are powerful in their feminine and sometimes fragile stance. There is great strength in the ability to be vulnerable, which I try to show in my work. It's not a quality I feel is so much admired in society, almost shied away from, but it's my aim to highlight all parts of the human condition, both the dark and the light.
CV
Education

Anglia Ruskin University, Cambridge, MA Arts Administration, 1995
University of East London, BA Fine Art, 1990
Wimbledon School of Art, London, Fine Art Foundation, 1989
​
Shortlisted Exhibitions
2020 John Moores Painting Prize
2020 Hastings Museum Open, Hastings
2017 Ruth Borchard Self-Portrait Prize, London
2017 Rye Society of Artists Summer Exhibition, Rye
2017 Sussex Open 2017, Towner Art Gallery, Eastbourne
Invited Group Exhibitions
2020 New Gallery, St Leonards on Sea
2020 Group Show, Ryebank Gallery, Rye
2019 Winter Show, Cameron Contemporary, Hove

2019 Tales Of Distant Shores, Cameron Contemporary, Hove
2019 From One Unconsciousness To Another, Elisabeth Bauer Gallery, Hastings
2019 The Artist In A Paper Mirror, Elisabeth Bauer Gallery, Hastings
2019 Antidote To Love, St Anne's Galleries, Lewes
2018 The Christmas Show, St Anne's Galleries, Lewes
2018 Summer Show, Rye Art Gallery, Rye
2018 Coastal Currents Art Fair, Hastings
2018 Home, St Anne's Galleries, Lewes
2018 A Sensual Aggression, St Anne's Galleries, Lewes
2018 Festival 15, Hastings Art Forum, St Leonards on Sea
(curated by Matt Burrows/Charlotte Snook)
2017 Lucy Bell Gallery, Christmas Show, St Leonards on Sea
2017 Cameron Contemporary Gallery, Winter Show, Hove
2017 Cameron Contemporary Gallery, All Square, Hove
2017 Coastal Currents Open Studio, St Leonards on Sea
2016 Christmas Group Show, Rye Art Gallery, Rye
2015 Face The Front, Rye Art Gallery, Rye,
2015 Omega Studios, St Leonards on Sea
2013 Group Open Studios, Lambeth Open, London
2013 Charity Group Show, Foreman's Fish Island Gallery, London, invited
2013 Group Open Studios, Dulwich Artists' Open House, London
2012 Group Open Studios, Dulwich Artists' Open House, London
2012 On the Brow of the Hill, Dulwich Park, London
2012 Group Show, Grossmith Gallery, Margate
2012 Group Open Studios, Lambeth Open, London
2011 Beauty in the Realm, Ice House Gallery, London
2011 Group Open Studios, NW10 Group Open Studios, London
2011 Group Open Studios, ArtNW10 Art Trail, London
2011 Brent Art Fair, The Gallery at Willesden Green, London
Solo Shows
2018 Private Open Studio, St Leonards on Sea
2018 Private Open Studio, St Leonards on Sea
2017 Curious Beings, Café Gratitude, St Leonards on Sea
2016 A Selection of Works, In House Junkie, St Leonards on Sea
2013 Landscape of the Human Soul, Audio Lounge, London
2012 Private Open Studio, London
2012 Beauty in the Realm, Romeo Jones, London
2010 The Treehouse, London
2010 The Medicine Garden, Surrey